Anirah: Riddle of the Pharaohs -- Preview
We're getting close to finishing our second original title, so I thought for this month's update I would just go ahead and give you a taste of what we've been doing around here.
Lost Luggage Studios presents...
Anirah: Riddle of the Pharaohs
-- Beta Test Preview --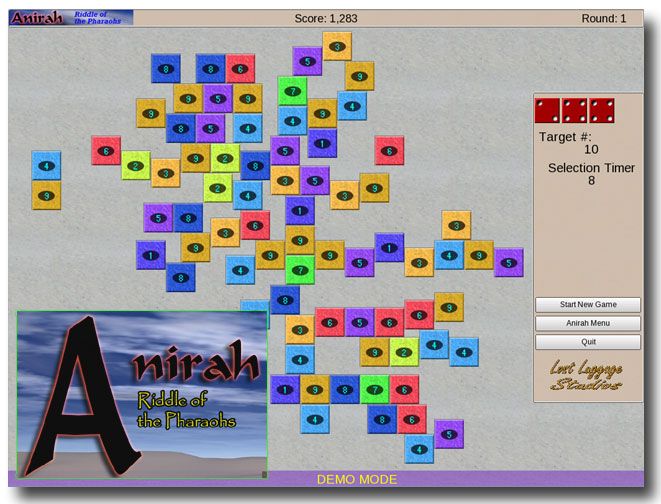 Anirah is an ancient Egyptian-themed tile matching game similar in some ways to the game MahJong. This is not a typical Match-3 type of game, however. In Anirah, you are given a target number and then can match as many tiles as it takes to total up to that number. Tiles can be selected if they can slide off the board - straight up, down, left, or right. You could make a match with three tiles, or ten tiles, or even just one tile. The goal is to clear the board and proceed to the next round. How many rounds can you survive?
Features:
4 gameplay modes- including timed modes and Dice Modes that generate new target numbers after every match
3 Difficulty settings
5 sets of tile graphics
The not-very-secret Geek Mode to really twist your mind (yay for binary arithmetic!)