Scribings, Vol 3: Metamorphosis is now available!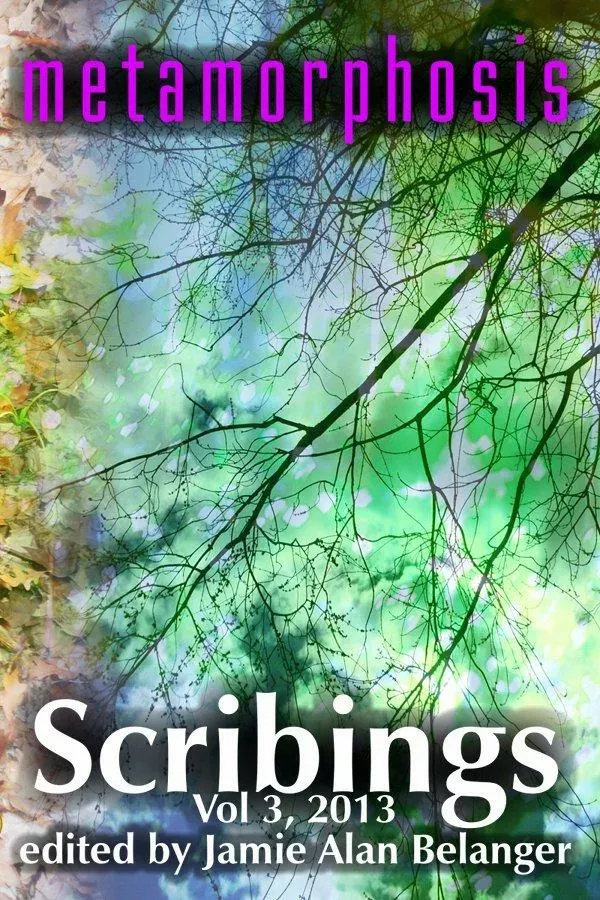 This morning we published Scribings, Vol 3: Metamorphosis. This book is special for a lot of reasons. It's a great collection of six stories from the six current members of the Greater Portland Scribists, one of the writing groups of which I am a member. But it's also the third volume of our Scribings anthologies, which means we have managed to publish an anthology every June since we formed. The authors and members of the group change over time, as all things do. Some members have been taking an indefinite break; some are just taking a break to finish a novel. But as a group we are growing. As writers we are growing. And we sincerely hope you see that in this volume. From the self-inflicted physical changes of a glory seeker to a man who is forced to learn how to live all over again, this volume is all about changes.
But there's another reason for Paul and I to celebrate this release:
Scribings, Vol 3: Metamorphosis is our company's tenth book release. When we started publishing in 2010, we knew we had a lot of books in us. Releasing a tenth title is a heck of a milestone, and one we are very proud of. We'd love it if you'd check out this latest release. As always with our anthologies, I made a PDF sample that gives you a short excerpt of each of these stories:
Third-Person Hero by Jamie Alan Belanger
An arrogant youth has one last chance for fame. Will cheating bring the success she desires?
Last Defender by Shelli-Jo Pelletier
After centuries of forced servitude, the last living gargoyle must decide if he will still uphold his kind's sacred duty to protect.
Disruption by D.L. Harvey
After ingesting a toxin, Braven's life is disrupted. Will an accidental romance and a foreign planet get him back to where he was?
Otherkin by Steven Inman
Marcie saw life as sink or swim, but her new friend led her to depths she didn't imagine.
Four Degrees by Timothy Lynch
The straw that broke the planet's back.
'Rose in Dreams by Richard Veysey
A boy discovers great power in a realm beyond dreams... and is ensnared in a nightmare from which he may not wake.
The ebook is currently available at Smashwords and the Amazon Kindle Store. Other ebook stores will carry it in the coming two weeks or so.
We are also making a paperback of this volume, which should be ready later this month.